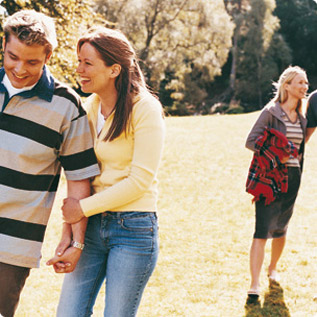 You've heard all about them, but now it's time to meet your date's friends face to face…
Being introduced to your date's friends for the first time is a very significant step in your relationship. Their eagerness for you to meet and connect with the people they hold dear is a huge compliment - it shows that they think highly enough of you to seriously consider taking your relationship to the next level. That's wonderful news, but being the outsider among a group of people who have a long established history together can feel overwhelming - especially when making a good impression is of paramount importance.
So before you start placing all the emphasis on how you'll come across, it's worth remembering that the company a person keeps reveals a lot about them too. The first time you meet his or her friends isn't just about you trying to win over a group of new people, it's also a chance for you to satisfy your own curiosity about them and form a clearer picture of the person you are dating.
In situations like this where you only really know one person (i.e. your date) it's tempting to stay close to their side the whole time, but if you want to make the very best impression it's in your interest to break off for a while and get to know others. Offering to buy a round of drinks will give you a chance to re-cap on their names as well as to mingle with the group. Be mindful not to get too drunk or loud though – having your date's friends help scoop you into a cab at the night isn't likely to win you their seal of approval.
Just as you've heard lots about them, your date's friends will have heard lots about you and will no doubt to be intrigued to meet you. You may find yourself unwittingly becoming the centre of attention. Be open and friendly and by all means answer their questions, but be careful not to hog the spotlight for too long. Make an effort to remember everyone's name and ask them questions or mention something that your date has told you about them like "John said you both trained for a triathlon together last year. How was that?" As well as showing that you've been paying attention to what your date tells you, it also shows you're aware of the importance of their friendship to your partner.
Don't take offence if the conversation sometimes veers towards reminiscing about past events and experiences they've all shared together. This isn't an attempt to isolate you or make you feel left out Your date's friends are just highlighting their bonds with your partner in order to establish that they care about him/her just as much as you do.
Try not to be too judgmental about your date's circle of friends at this early stage either. Comments like "I don't think Sarah liked me." will put your date in an awkward position and any negativity on your part could be perceived as an attempt to create a divide between them and their friends. Remember these people have known your date far longer than you and it's in your best interests to forge your own bonds with them so that your relationship can develop and thrive. After all, if things work out between you and your date, you'll probably be spending a lot of time socialising with them in months - maybe even years - to come. A little effort now could go a very long way.