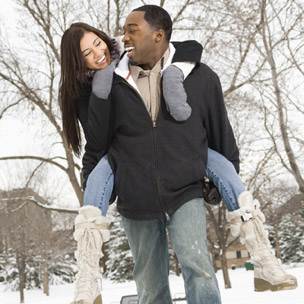 If you're dating someone new this winter, here are our favourite ideas for love in a cold climate.
Go ice-skating
Outdoor ice skating is glamorous, graceful, seductive… unless you're a mere mortal, in which case it's cold, clumsy and likely to end in a tumble. But you and your date will cling to each other and laugh your socks off as you try getting round in one piece.
Enter a pub quiz
Pub quizzes are brilliant fun with a group of friends, but they're also perfect for a date. You and your companion can have a laugh, get to know each other and test each other's brain power. Bonus points for grabbing a table near the roaring fire.
Stay late at the museum
Many museums and galleries hold special adults-only late nights, allowing you to browse in peace after work. Many late openings, such as those at the Tate galleries, include music, food and drink.
Have a laugh
There are plenty of cheap comedy clubs and free open-mic nights bursting with talent. Great value, especially when you can pay more than £30 to see a big-name comic in the West End.
Alternatively, get free tickets for a TV show. Check out what's available on the web and chat to your date about what they'd most like to see.
Enjoy a movie matinee
Avoid the evening crowds and enjoy a movie matinee. Max out the romance by choosing an independent cinema that serves coffee and cake.
Browse the stalls
Christmas markets offer another excuse to wrap up in your woollies. Fill up on mulled wine and home-made mince pies as you wander through the markets picking up tips from your partner on what they'd really like to find under the Christmas tree this year.
Have your drinks on ice
Judging by the popularity of ice bars, whose indoor temperatures would make a penguin shiver, you really can have fun at five degrees below zero.
Bar's like London's Absolut Ice Bar are so cold that you have to wear a duvet-like thermal cape, and you're only allowed in for a maximum 40 minutes. The walls, bar, tables and vodka glasses are all made out of ice and are sure to help "break the ice" between you are your dating partner.
Relax with a coffee
Happiness is vegging on a coffee shop sofa with your partner, a supersize latte and the papers. Easy like Sunday morning after a late Saturday night.
Go salsa dancing
Most salsa classes are a mix of beginners and enthusiasts, so don't feel shy about your lack of footloose finesse. Salsa is sexy, great for your body, and a real laugh. The more you laugh, the more you'll feel comfortable with each other.