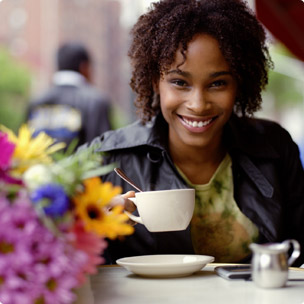 Thousands of people successfully find love on SITE_DOMAIN every year, but if you're new to the world of online dating – what should you consider? Here are some of our best tips and advice.
Pick your password carefully
Try to use a password that you can remember easily, but that will be hard for others to guess. Choose something at least eight characters long; mix up numbers and letters, and don't write it down on a piece of paper. If your computer is used by other people, don't ask your web browser to remember your password for you.
Keep it real
With online dating you get what you give. Honesty and communication have often been viewed as the cornerstones of a happy relationship, so by being honest about yourself and what you're looking for in a partner from the start, you'll have a better chance of meeting someone who's right for you.
Stay in control
It is our top priority to ensure that you have a safe and successful experience. We strongly recommend that you stay within the site to build up relationships over time, rather than giving out your phone number, personal email or instant messenger address to matches that interest you straight away. Remember that with SITE_DOMAIN you are fully in control of your search for love and can choose to take things at your own pace.
Use your instinct
Your common sense and instincts are a valuable tool in deciding whether to pursue a relationship with someone you meet in any walk of life. Requests for money or financial assistance are not acceptable. You should never send money to anyone you meet online; just as you would never give money to someone you recently met in a pub or cafe.
Tell us if something's not right
Get to know potential dates before meeting them in person by exchanging messages through our internal email services. Help us to ensure the success of our community by alerting us if you come across anything you feel is not right. This will flag the member causing you concern to our moderators immediately, which will help us resolve the issue quickly.
Be Date Smart
Meeting for the first time can be extremely exciting, but be sure to keep your feet on the ground. Choose a public place to meet where you feel comfortable and secure. Cafes for example are great places for first dates. A cup of coffee can be a short encounter or a longer meeting, depending on how well you hit it off! Tell at least one friend or family member who you are meeting, where you are going and what time you expect to return.
Part of what makes matchaffnity.com so great is that you're part of an active and engaged community, so don't forget our care team are always here to help.
We hope you enjoy your time on SITE_DOMAIN.