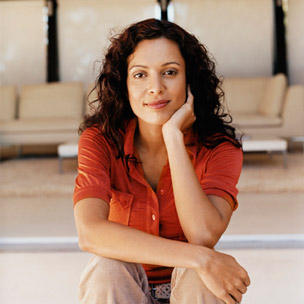 Are you really ready to date again?
This is a vital question to ask yourself. It's often very tempting to look for new love soon after a breakup but this can do you more harm than good. If you're getting back into the dating game as a way to boost your confidence or fill gaps left in your life by your ex, the new relationship may falter because your new partner will pick up on the fact you're comparing them to somebody else. If you both struggle with trying to make them into someone or something they're not, it's unlikely to last and if they are the one to finish things, you'll be doubly hurt.
To find out if you're ready, see if you can answer "Yes" to the following questions:
1. Can you look at photos of you and your ex together and not feel huge surges of emotion?
2. Could you date someone else without being tempted to let your ex know?
3. Are you sure you're not looking for a new partner just because your ex has got one?
4. Has your ex stopped being your first thought in the morning and your last at night?
5. Do you honestly feel ready for a new relationship?
If you can answer yes to all of them, you're certainly ready to start over. If you can only answer "yes" to three or less, you might want to give it a bit more time. Boost your confidence and your social life in other ways first, for example by reconnecting with old friends, and getting 20 minutes of exercise every day (to improve your appearance and lift your mood).
How to start over
Joining a relationship service like matchaffinity.ie is one of the very best ways to start dating again. Whether you're using it as your main way of meeting new people, or just one of many new tools you're exploring at this stage of your life, you'll find that it helps you in lots of ways, from reassuring you that there are, in fact, a great deal of fish in the sea, to helping you connect with them at a pace that suits you. Plus, because we are matching you with people with whom you have real affinity, the chances are that you won't find yourself dating people just like your ex.
Another wonderful way to meet new people is take up a new social activity that meets regularly, like a book group, a local church, a single parents' club, a sports team. All of these combined with your time on matchaffinity.ie can help you build your network of friends. When you have finished a relationship, you can often feel isolated and out of the swing of socialising on your own again. Making friends at a regular activity will improve your confidence, get you used to meeting new people again, and even if none of them are your type, they might have a friend who is.
Don't repeat history
When you meet a new person you feel you'd like to start a relationship with, take it slowly. Get to know them over time and over interesting dates (see our Stress-Free Dates feature). There's no rush – you're not using this new person to fill gaps in your life, they're simply a welcome addition. If you feel you want to move slowly, don't be afraid to tell your new partner that.
Try not to compare them to your ex, even if it's in complimentary ways. See this relationship as complete in itself. And don't use dates like therapy sessions – in the beginning, a new partner doesn't want to hear about your ex. If you are derogatory about previous partners, your new one will feel you'll just go on to be derogatory about them! So keep quiet. Later on, you can talk about exes together – in the beginning, just enjoy being in the company of someone new and interesting.