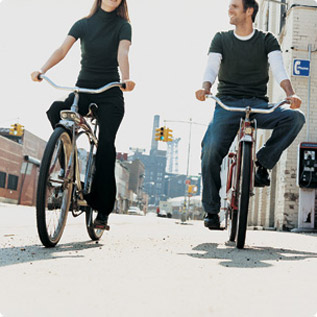 Need the perfect idea for that perfect first date? Here's a selection that are guaranteed to be stress-free, relaxing and fun.
Lunch
Lunch is the most stress-free meal option. It's quick, convenient, and the dress code is much more relaxed than it is for dinner. You don't need babysitters, or taxis home. Plus, it has to be relatively quick if you're both going back to work or other commitments afterwards, and you don't have to think about inviting anyone back for "coffee".
Fun lunch options would be a picnic in the park, or in a restaurant your date specifically mentions in their profile. Remember, lunch at a really smart venue is much cheaper than dinner, and tables usually require far less advance booking.
Afternoon tea
This is a charming, romantic option. It's lovely on Sunday afternoons, but has an even more romantic feel to it if you both take the time off from work. Again, it's a quick date, but can be made longer if you both linger over pots of tea and lovely cakes.
Dog Walking
We find that our members who have dogs really enjoy this date idea! The conversation flows freely as you can both talk about your canine companions, and raising your heart-rate with fresh air and exercise is a natural mood-enhancer. Follow it up with a pub lunch to warm up.
Bowling
Activity dates – like bowling, playing tennis, crazy golf or taking a guided tour of somewhere lovely – are stress-free because you don't have to think of things to talk about. You are given something to do and you do it! it also gives you a chance to see what your potential partner is like in a variety of different situations, which will tell you a lot more about them than you'd learn on 100 silent trips to the cinema!